This was my first weekend of doing back-to-back long runs on Saturday and Sunday. Yesterday I got up way earlier than I ever thought possible (for me) and got my 7km done as the sun rose. Today we were scheduled for a nice easy 10km and the group decided to meet at a much more Nikki-friendly 7:30 am.
Earlier in the week it was decided that our run would start out in Fort Langley. Fort Langley is a cute little historic town that was actually the capital of our province at one time (hence the fort). Today it is quiet, well kept and you feel kind of like you've stepped back in time a bit when you go there. It's a neat place.
Not the best picture, but Fort Langley really
does have a cool main street and downtown!
Other than the Historic Half 10k I have never run in Fort Langley before and it worked out perfectly because this week's Mojojar Monday challenge was to go on a runventure and run a route you've never done before, complete with photos. I know there are lots of cool trails out that way that are pretty popular with us runner types but I wasn't sure where we'd be running today and it didn't matter anyways because it was all new to me.
We met at a local coffee shop called
Wendel's
and set out from there. I am loving my running group more and more because every time we run together (which has only been a couple times so far) there are always more new people. It is so great meeting all these new runners and even a few more who will be with us in Disney World.
I made a last minute decision to ditch my light jacket and try out my new arm warmers today. I've never used them before but so many people rave about them so I bought a pair just recently. Since I knew it was going to be nice this morning (but chilly at first) I figured it would be a great day to try them out.
Anyhow, it was an absolutely gorgeous morning and our run started off heading west along a pretty quiet road. Lots of fields around and even a little mist left over. Very pretty. The road had some rolling hills and the distance just ticked along as we settled into all kinds of conversation. We covered everything from Walt Disney World to online dating to camel toes to foreign bodies. There's nothing better than a run group that will talk about anything. And I do mean ANYthing!
After about 3ish km we took a turn into the Houston Trail which is very popular well-kept gravel trail with rolling hills. We were running at a true long-slow-distance pace so the hills didn't bug me too much. It was lovely running through the trees and nice and cool too...
We spent about 4km on the trail before popping back out onto the road and headed back east towards Fort Langley. This group is also really good for sticking to their planned pace which is good for me because I don't normally pay much attention. I usually just try to run as fast as is comfortable and hope I last. I think with all those miles ahead of me at the Goofy events, I need to be better trained to stick to a nice even pace to make sure I finish!
We got back to Wendel's at about 9.88km so we carried on down the sidewalk a little bit to make up those last few metres. And after that, a yummy breakfast at the coffee shop and a good look through one of our other runners' scrapbooks from her other runDisney adventure. Makes me so excited to go do Goofy!
Now, how about those arm warmers you ask? Well I think I'm a huge fan! I always imagined they would slide down but they stayed perfectly in place and kept me just the right amount of warm. Since I was wearing them with a tank top, I had bare shoulders and it was just enough exposure to keep me cool while the warmers kept my arms warm. Awesome. Can't wait to use them more as the weather gets cooler this fall. I didn't really get a picture, but here's the picture from the website. Maybe I'm geeky, but I wore mine up over my elbows...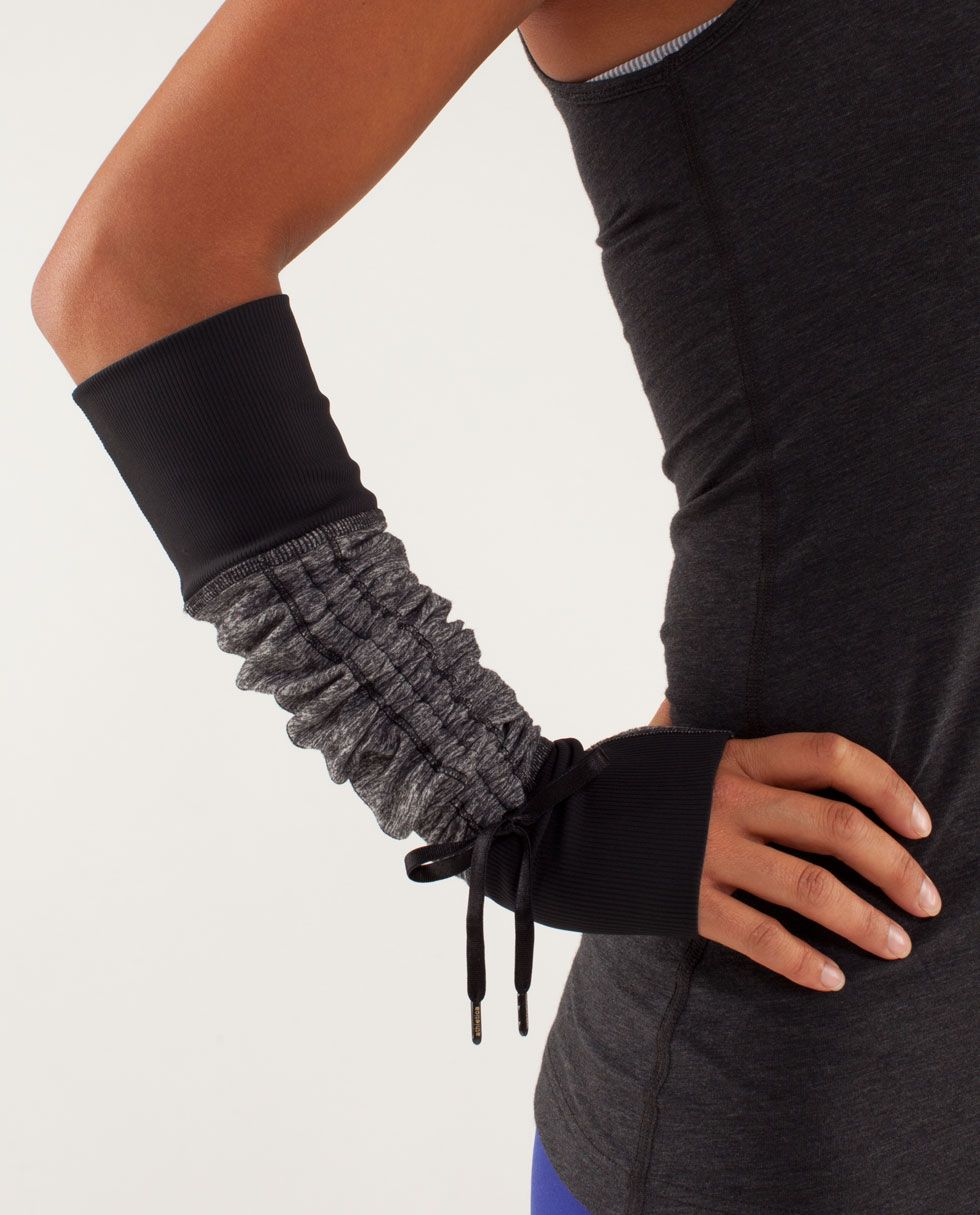 So there you have it! An awesome run through country that was definitely a new runventure for me! Mojojar Challenge for the week is complete!
Do you use arm warmers? Am I uncool if I pull them up over my elbows?