I can't tell you how many times I've been asked by people why on earth I want to run so far. Whether it's in reference to a marathon, an ultra or even just a 10k, I always kind of snicker with a smile and tell them because I get so much out of it.
There's the obvious rewards, like the medals. And every single medal means so much to me. They are so much more than just a piece of medal hanging around my neck. In each and every one of them I see all my hard work, every mile, every early morning and every single failure and success that got me to the finish line reflecting back at me.
And I can't deny that my eyes light up when a medal is particularly cool or large like the Surrey Half Marathon medal from last year...
I was excited for the big Surrey Marathon medal reveal yesterday because it looks like it's going to be just as big this year! Can't wait to earn this big beauty on Sunday!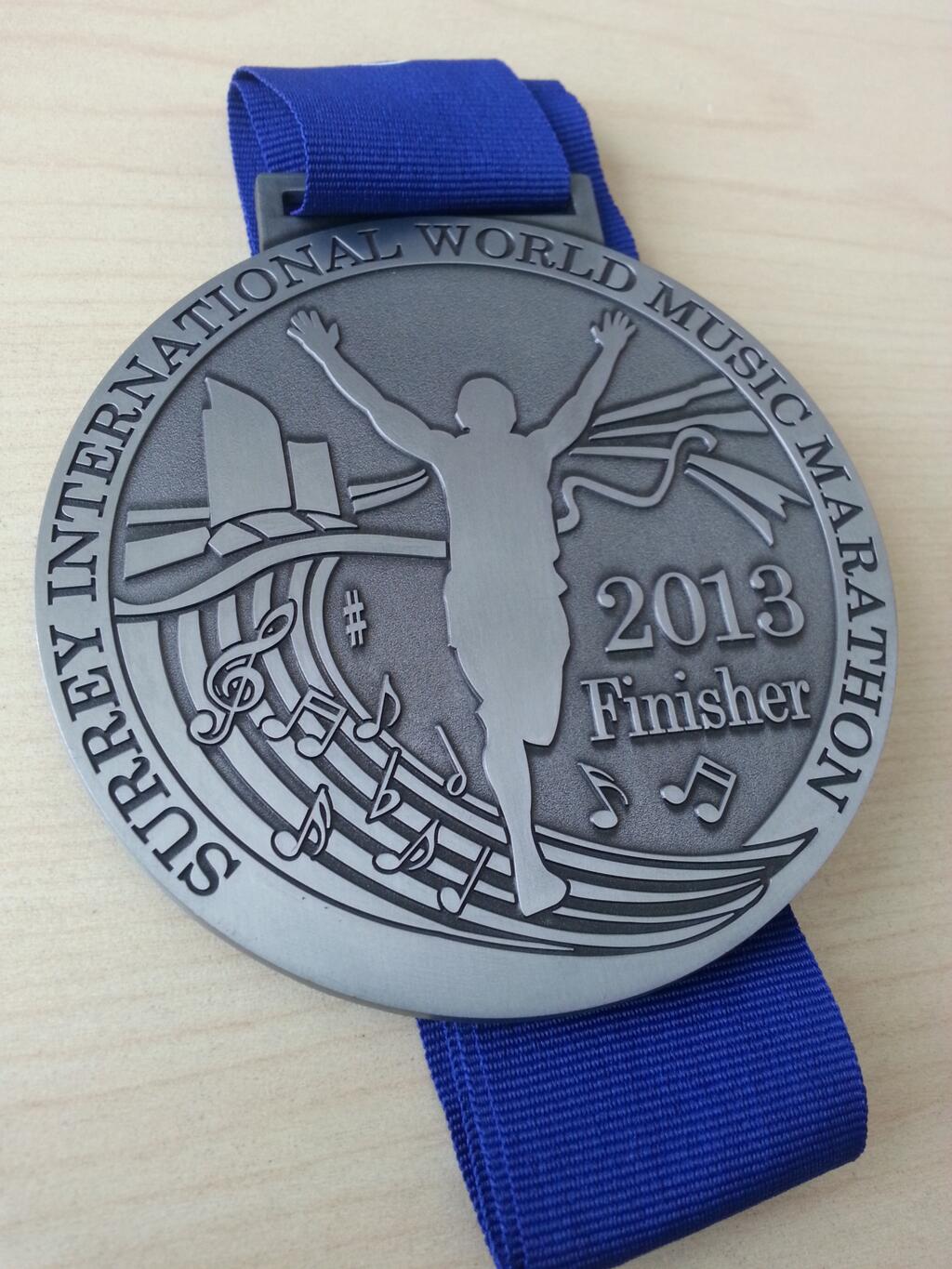 But beyond the physical rewards of running a marathon, I feel like I've earned many other things that are just as treasured. There's the feeling of accomplishment and the intense satisfaction of setting a lofty goal and working hard to achieve it. Those feelings are amazing.
But more importantly - the biggest reward of all - running has brought me so many new friends. From my very first clinic I started to meet really great people and through my blog and social media I have gotten to know so many more awesome runners who have become good friends. In fact, since I started running in 2008 my social circle has changed immensely and probably includes more runners than non-runners now!
The Surrey Marathon in particular makes me think of this whole phenomenon because last year it kind of helped start and solidify a couple of those friendships.
Krista
and I met during hill training one night at Run Club and ended up running the Seawheeze half marathon together. The Surrey half marathon was only about a month or so later and only the second of a very long string of running events (and a very dear friendship) that we've done together since! I still kind of think of Surrey as part of the start of our friendship and this year I'm excited that we're doing the full marathon, my third and Krista's first!
And then of course there's my friendship with
Solana
which really did begin (in person) at Surrey Marathon. You can see her in this pic sneaking up behind me as I take a selfie - we had planned to try and meet up and this pic shows her finding me. Ha ha.
In the year since we met at the Surrey half marathon Solana has become a close and very dear friend. She's like my coach, my cheerleader, my sounding board, my run buddy, the voice of running reason and always my biggest fan.


This year at Surrey Marathon I am looking forward to meeting up and hopefully running with so many other wonderful people I've met and gotten to know in the past year. There's
Alanna
who is also one of our fellow Surrey Marathon bloggers and
Kendall
who has an amazing story of her journey to running the Surrey half marathon. Our group of runners from the Langley Running Room (you guys know who you are!)...
Just a few of my Langley RR peeps!
And probably most dear to me this year, I'm so excited to have my sister at the Surrey Marathon. This will be her first full marathon and she has become the most amazing, strong runner in the past 4 months. She has been so dedicated to her training she is going to do awesome on Sunday and I can't wait to see her smiling face at the finish line (because she's going to kick my butt out there, she's fast!)
Who will you be running with at Surrey Marathon?
There's still time to register for Surrey Marathon but it closes tonight at midnight!